Landscape and Construction Design
Whether you are a visual person or not, our software design will show you everything you could ever dream of! From materials to plants get a better feel of how your vision will appear.  Not sure how to be utilize your property? Let us make recommendations or design ideas for your property.  
DiTullio Landscaping uses a CAD design software to to give the client a real time view of the landscaping project before any work starts. We work with you throughout every step of the design process to incorporate any personal preferences along with the existing environment.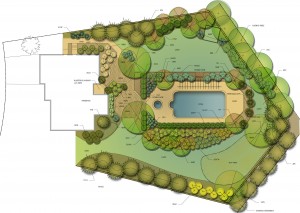 During an initial consultation a landscape designer will measure the existing environment and photograph your property. Using the CAD design software in collaboration with the measurements and photographs the designer will draft a customized plan. 
The customized design plan is then presented to the client where any changes can be made. 
Having a well developed design plan makes it easy for the client to visualize there landscape before any work is started. Once the plan is reviewed and approved the landscape installation crew will make your dreams a reality. 
CALL US TODAY TO GET STARTED WITH YOUR PLAN